Preview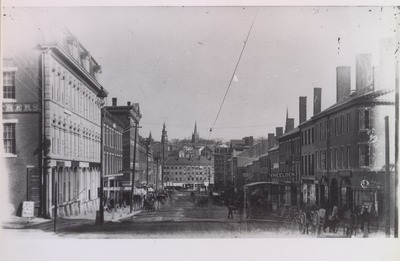 Description
On Main Street in Bangor, Maine, looking from about 105 Main Street to lower Main Street. Where "Hers" is written is the corner of Middle and Main Streets.
Date approximation based on the overhead street railway cable running above the middle of the street. 1889 was creation of a street railway in Bangor.
Approximation also based on businesses visible via magnification and/or zooming.
T.A. Snow, operated by Thomas A. Snow, was a boots and shoes store at 71 Main.
Leighton's Shoe Store at 16 West Market Square (35 Main Street). Albert K.P. and Gilbert L. Leighton owners. Leighton Bros. is listed in the 1890 Bangor city directory, but not in the 1891. This fine-tunes the date estimation.
Daniel Dakin, apothecary, at 80 Main.
Wheelden, at 76 Main, was a musical instrument and sewing machine (!) store. Lincoln J. Wheelden, president.
Also seen is the Unitarian Universalist Society Church of Bangor, Maine, between Center and Park Streets.
Keywords
Main Street Bangor Maine, Bangor Maine 19th century, Unitarian Universalist Society Church of Bangor Maine
To view larger size: Download and view in your browser
Keywords
Main Street Bangor Maine, Bangor Maine 19th century, Unitarian Universalist Society Church of Bangor Maine
COinS