Preview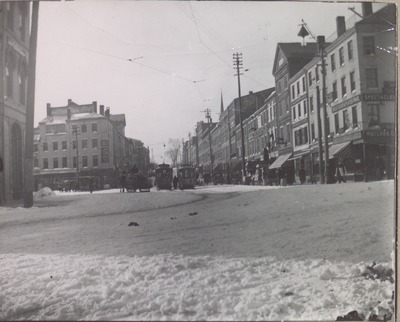 Description
Looking up Main Street from West Market Square, Bangor, Maine, circa 1889 to 1895.
Estimation based on presence of street cars, new to Bangor in 1889.
Businesses visible by zooming or by magnifying glass include:
Sweet's Drugs at 2 Main Street. Caldwell Sweet owner. Present location of Paddy Murphy's Restaurant. [Many street addresses have changed over time. This is now 26 Main Street, though it is the same building as Paddy's].
George Lansil photographer at 4 Main.
A.H. Babcock Coal at 4 Main. Augustus H. Babcock. 1895 estimation based on that by the 1895-1896 Bangor city directory the name of the business had changed to Stickney & Babcock Coal Company and location was 17 State Street.
E.J. Davis boots and shoes at 23 Main. Edwin J. Davis
J.M. Daggett at 15 West Market Square (i.e. Main Street). James Milton Daggett operated at a dry goods store. According to the 1897-1898 Bangor city directory, Mr. Daggett died November 19, 1895.
This is #2 of photo with this title. Here's a link to #1: Main Street at West Market Square, Bangor, Maine, Circa 1889 to 1895
Keywords
West Market Square Bangor Maine, Main Street Bangor Maine 19th century, Bangor Street Railway
To view larger size: Download and view in your browser
Keywords
West Market Square Bangor Maine, Main Street Bangor Maine 19th century, Bangor Street Railway
COinS