Preview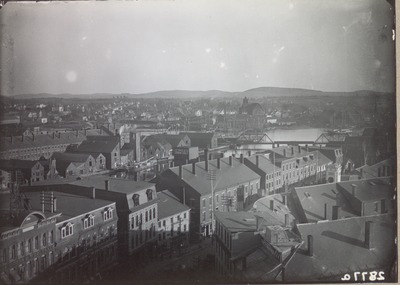 Description
A remarkably clear photograph from the 1890s (probably taken from the Hersey Building i.e. Bangor's City Hall on the corner of Hammond and Columbia Streets in Bangor, Maine.
Looks out upon West Market Square, Broad Street, the Kenduskeag Stream, Penobscot River, and across to Brewer, Maine.
The far right shows the covered bridge linking Bangor and Brewer. A few sail ships are on the Penobscot, and one is docked along the Kenduskeag.
Businesses viewed through magnification include:
J.C. Towle & Co. Grain and Salt at 82 Broad.
William P. Dickey hardware at 50 Broad.
R.B. Dunning Lime and Cement at 54 Broad.
George Lansil photographer at 28 Main.
The Phenix Block at 20 Broad, built 1873, also present. Building still among a few in photograph still standing in 2021.
Bragg, Cummings & Co. at 73 Broad. Building on right side of photo, has a white tower known to have not been on building by 1902.
Keywords
West Market Square Bangor Maine, Main Street Bangor Maine 19th century, Broad Street Bangor Maine, Kenduskeag Stream Bangor Maine, Penobscot River, Phenix Block Bangor Maine
Location
Bangor and Brewer Maine
To view larger size: Download and view in your browser
Keywords
West Market Square Bangor Maine, Main Street Bangor Maine 19th century, Broad Street Bangor Maine, Kenduskeag Stream Bangor Maine, Penobscot River, Phenix Block Bangor Maine
COinS