Preview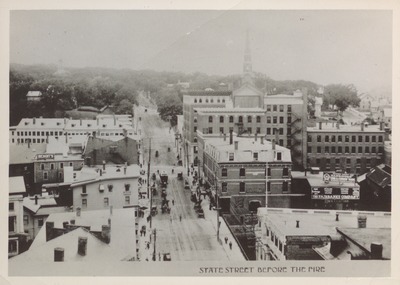 Description
Aerial view of downtown Bangor State Street (likely taken from the Bangor City Hall, Hersey Building tower on Columbia Street) circa 1905-1911.
Date estimation based on The Fairbanks Company not listed in the 1905 Bangor city directory, but is listed in the 1907 directory. Billboard for Fairbanks Company can be seen lower right.
Also most of these buildings were destroyed in the April 30, 1911 fire. Among these are the Morse Oliver Building on the corner of Exchange and State. This was Bangor's "skyscraper" of the era.
Also seen (with magnifying glass) are:
All Soul's Congregational Church at 10 Broadway.
Taney Photographer at 6 State. Emma Taney photographer.
Benoit's at 20-22 State. Benoit Consolidated Clothing Company "dealers in high-grade men's and boys'" clothing.
Bangor Savings Bank 3 State
Bangor Public Library 11 State
Keywords
Hersey Building Bangor Maine, Morse Oliver Building, State Street Bangor Maine, Exchange Street Bangor Maine, All Souls Congregational Church Bangor Maine
To view larger size: Download and view in your browser
Keywords
Hersey Building Bangor Maine, Morse Oliver Building, State Street Bangor Maine, Exchange Street Bangor Maine, All Souls Congregational Church Bangor Maine
COinS