Preview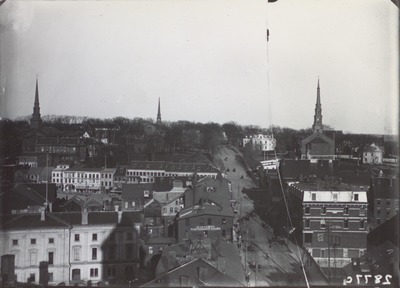 Description
1889 to 1895 is estimation given presence of street railways and absence of Morse Oliver Building.
Businesses visible (via magnifying glass) on East Market Square/Park Street are:
Haskell's Undertaker Supplies at 41 Park. Arthur B. Haskell owner.
Tebbet's Wholesale Casket Manufactory at 35 Park. William O. Tebbets undertaker
Babb, Witham & Kelley at 49 Park. LeBaron C. Witham, Charles H. Babb, Edward F. Kelley
Abel Hunt 25 Park casket manufacturer and undertaker
J.H. Bacon, book and job printer, at 28 State. John H. Bacon
Marston's Photograph Rooms at 3 State. Marston Photograph Rooms at 3 State. Charles L. Marston died December 10, 1895 (according to the 1897-98 Bangor city directory).
All Souls Congregational Church 10 Broadway
Keywords
Morse Oliver Building, Exchange Street Bangor Maine, State Street Bangor Maine, Bangor Maine 19th century, All Souls Congregational Church Bangor Maine
To view larger size: Download and view in your browser
Keywords
Morse Oliver Building, Exchange Street Bangor Maine, State Street Bangor Maine, Bangor Maine 19th century, All Souls Congregational Church Bangor Maine
COinS