Preview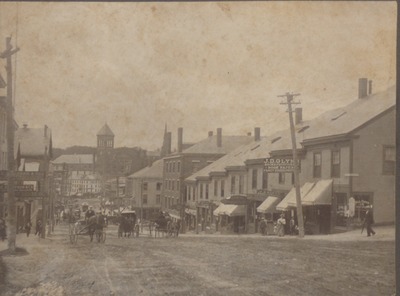 Description
J.D. Glynn, a books and stationery store, was located at 62-66 State Street. Man on far right is on corner of State and French Street.
J.L. Stuart operated a picture and frame store at 60 State.
J.N.V. Lane, a gas fitter, was at 54 State.
Edward S. Gorham operated a house painting business at 63 State.
Edward K. Watson had a carpentry business at 61 State.
Date estimated between 1893 and 1899. The "new" city hall tower for the Hersey Building is visible -- this building began to be constructed in 1893. In 1899, the Morse Oliver Building, Bangor's "skyscraper" of the era, had construction beginning in 1899. It would be have been in this picture on the left hand side.
Keywords
Hersey Building Bangor Maine, Morse Oliver Building, State Street Bangor Maine, French Street Bangor Maine
To view larger size: Download and view in your browser
Keywords
Hersey Building Bangor Maine, Morse Oliver Building, State Street Bangor Maine, French Street Bangor Maine
COinS