Preview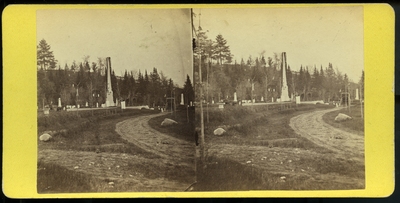 Description
Soldiers Monument, a 20-foot high obelisk near the entrance of the Mount Hope Cemetery, may be the oldest Civil War monument in the United States.
It was dedicated in 1864, when the body of Bangor native Stephen Decatur Carpenter was laid to rest. Although his body was moved to a family plot at their request in 1881, those killed in action as well as veterans filled the plot, and in 1907 the Grand Army of the Republic fort and monument was dedicated, followed in 1960 by the 2nd Maine Regiment memorial near the gates of the cemetery.
Mount Hope Cemetery was itself something of a trend-setter; inspired by the Mount Auburn Cemetery in Massachusetts, it became the second-oldest garden cemetery in the nation when it was consecrated in 1836, covering one hundred acres.
Note: This image was scanned by a student at William S. Cohen School.
Keywords
Civil War Memorial, Mount Hope Cemetery, Stephen Decatur Carpenter, Soldiers Monument, Monuments, Cemeteries
Location
Bangor, Penobscot County, ME
Medium
stereo photo, stereograph
Dimensions
18.7 x 17.5 cm
To view larger size: Download and view in your browser
Keywords
Civil War Memorial, Mount Hope Cemetery, Stephen Decatur Carpenter, Soldiers Monument, Monuments, Cemeteries
COinS