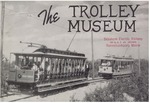 Description
Opening paragraphs:
"Since World War II, the trolley car has been vanishing so rapidly from the American scene that few members of the younger generation have ever ridden a streetcar --this despite the fact that nearly every one of our large cities was laid out around an electric railway system. Back in 1939, when the trend to other means of transport was already becoming irrevocably established, a dolzn men in Boston undertook to preserve for posterity, a single open car from Biddeford, Maine. From this modest start has grown Maine's famous Trolley Museum, of which this is the official catalogue. Because the collection represents nearly every phase of car design and development, this booklet is also a history of the trolley from 1873 to 1931.
In all the annals of human endeavor, never has so large an enterprise grown and disappeared so swiftly as the traction industry. Less than 70 years have passed since 1888, when the first really successful electric car was placed in service. In 1921, the elenric railway business was America's fifth industry, with 300,000 employees, a six billion dollar investment, and 15 billion riders -- twelve times the number of passengers carried by the steam railroads in the same year. Yet today, but six interurban lines remain of the hundreds which once criss-crossed the nation, and a mere dozen cities in the United States and Canada are still served by streetcars. Most of these are of the silent streamlined type designed by the industry's Presidents' Conference Committee (PCC) in 1936 to meet auto and bus competition. A rare thing indeed is the sight and sound of an old time trolley. Soon, even these remnants will be gone. Only in a museum will it be possible to see and ride what was once the world's most important and certainly most interesting transport vehicle. Here, we hope to perpetuate for future generations, an operating trolley line, with original equipment, amid the surroundings of the era during which this country grew from a rural frontier into the industrial giant and world power that it is today."
The booklet is 44 pages. The last ten pages are the front and back of five separate postcards that were on view at the Trolley Museum circa 1958 -- and possibly remain on display there today.
City
Kennebunkport, Maine
Keywords
Seashore Electric Railway, New England Electric Railway Historical Society, trolley history United States, trolley history Maine
Recommended Citation
Seashore Electric Railway and New England Electric Railway Historical Society, "The Trolley Museum: Seashore Electric Railway on U.S. 1, Kennebunkport, Maine" (1958). Maine Railroad Publications. 43.
https://digicom.bpl.lib.me.us/railroad_pubs/43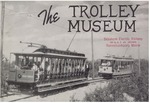 COinS