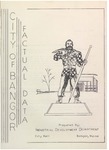 Description
"Dear Mr. Businessman and Mr. Industrialist:
We welcome your request for information on Bangor's facilities and services.
In Bangor you will find space for growth and a willingness to assist new, as well as existing, industry. Many out-of-staters have found our City a good place in which to work and live the year around. The outdoor activities provided by the area's woods, mountains, lakes, streams, and coastaI waters is well known.
People from other sections of the country have the erroneous idea that Maine is snow bound in winter. There was some truth to this beIief 50 years ago, but no more. Thanks to power ploughs and other modern snow removal equipment, we take winter in stride. A snow storm that would cripple a larger metropolitan area slows activities in Maine very little.
The state's industrial climate is also good. The tax situation compares favorably with other states of northeastern United States. Also, this is true of labor management relatlonshlps.
If you are associated with an industry that has plans to relocate, you might consider the Bangor area as a plant site. We welcome further inquiry and would be happy to provlde more specific details keyed to your needs."
Publisher
City of Bangor, Maine, Industrial Development Department
Keywords
Bangor Maine, industrial development Bangor Maine, City of Bangor Maine Industrial Development Department
Recommended Citation
City of Bangor, Maine, Industrial Development Department, "City of Bangor Factual Data: 1960" (1960). Bangor Urban Renewal Documents. 9.
https://digicom.bpl.lib.me.us/city_bur_book/9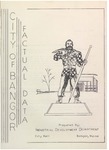 COinS