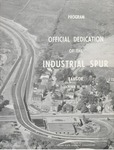 Description
Just over two years ago one of those modern marvels of construction machinery, a backhoe, crooked its steel arm into the air near the Bangor City Hospital and dug its steel fingers into the earth. It was the first ground broken for Interstate highway construction in the Queen City.
Today, 3/4 of a million yards of earth later (plus quantities of concrete, steel and gravel equally as astronomical in their proportions) traffic is humming over the broad four lane highway of the Industrial Spur from the Main Street interchange to Odlin Road. Traffic recorders are busily clicking off over 6000 vehicles a day. The Spur will not only "tap off" thousands of vehicles a day from Hammond and Union Streets and relieve congestion in the downtown area, it will also make Bangor's new industrial areas near the Spur attractive to firms seeking new and more functional quarters.
A modern highway to serve these industrial areas ha-s been a dream of the city's progressive citizens a dozen years or more. Now that dream has been realized in rugged, long-lasting asphalt, steel and concrete.
Publisher
Maine State Highway Commission
Keywords
Bangor Maine, interstate development Bangor Maine, Bangor Maine 1950s, Main Street Bangor Maine, Odlin Road Bangor Maine, Interstate 95 Bangor Maine history
Recommended Citation
Maine State Highway Commission, "Program for the Official Dedication of the Industrial Spur, Bangor, Maine, October 30, 1959" (1959). Bangor Urban Renewal Documents. 5.
https://digicom.bpl.lib.me.us/city_bur_book/5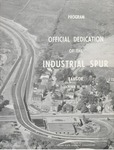 COinS