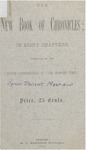 Description
A parody of Maine politics circa 1879, written in the form of a chapter of the Bible, recounting the contentious four candidate1879 Maine gubernatorial race. A huge cast of characters and political parties are present. "King Gasslon" clearly refers to the Governor of Maine from 1879 to 1880 Alonzo Garcelon. Garcelon oversaw the "Greenback" controversy, when he investigated alleged voter fraud and determined that the Democrats and not the Republicans had won a majority in the legislature. Senator James Blaine arrived at the Capitol in Augusta with a hundred armed men to protest the results, and Garcelon called out the state militia. Intervervention by a group lead by Joshua Chamberlain helped to restore order. Garcelon's term as Governor ended less than two months later.
The incident was profiled in the books Ballot Battles by Edward B. Foley, and Joshua Chamberlain: The Soldier and the Man by Edward Longacre. It was also detailed in a November 2020 article from Downeast Magazine by Brian Kevin called (online) "What Happened When a Maine Governor Tried to Rig an Election" and (in print) "A Governor Tries to Steal an Election."
James Dwight Maxfield, the author, served on the staff of Daniel F. Davis, the winner of the race, and rightful successor to Garcelon [Source: September 16, 1884, Lewiston Evening Journal"]. "The men of Daniel" are one of the characters Maxfield references throughout the piece.
A truly interesting semi-first hand, yet satirical, account of a forgotten incident of Maine's political and social history known to many at the time as "the Twelve Days that shook Maine."
Keywords
"Greenback" controversy, Alonzo Garcelon, James Dwight Maxfield, Daniel F. Davis, "Twelve Days That Shook Maine", Maine politics 1879
Recommended Citation
R.O. Robbins, "The New Book of Chronicles in Eight Chapters [Compiled by the Dexter Correspondent James Dwight Maxfield of "The Newport Times"]" (1880). Books and Publications. 368.
https://digicom.bpl.lib.me.us/books_pubs/368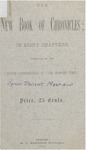 COinS