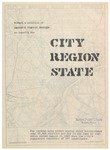 Description
Argues that the basic pattern of highways in Bangor was established 150 years ago, more than a hundred years before the automobile came into popular use. As the layout of streets suggests, all routes were intended to bring traffic into the center of the city.
The development of an adequate highway network in and around Bangor has manifestly lagged far behind the needs of the present-day automobile users. In fact little, if anything, has been done, outside of designating a rotary and a few one-way streets, to correct the basic inadequacies of the system. Unless one can predict that the use of the automobile will soon be on the decline, he must conclude that bold measures in highway improvement for this entire area are the order of the day -- in the interests of day-to-day driving convenience for the inhabitants, and future economic development for the area.
Presents prospective changes to the highways and streets on Bangor in diagrams for 1955, 1960, 1970, and 1980. Several of these changes did not happen as projected. For example, what would become I-95 was projected to be outside the city of Bangor, not running through it.
Publisher
Bangor City Planning Department
Keywords
Bangor Maine, Bangor Maine traffic system, Bangor Maine urban planning
Recommended Citation
Bangor City Planning Department, "Toward a Solution of Bangor's Traffic Problem" (1955). Books and Publications. 304.
https://digicom.bpl.lib.me.us/books_pubs/304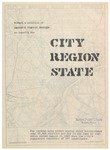 COinS
Rights Statement