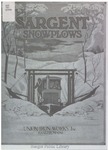 Description
Traffic paralyzed-streets choked with wallowing trucks -- street cars standing idle -- country highways drifted high with unbroken snowthe wheels of industry almost motionless -- the food supply of millions threatened -- every winter all this happens when the big blizzards sweep across the northern sections of the country.
Business must continue without interruption. Freight and express shipments must get to the railroads; mail, express and freight deliveries must proceed without delays to manufacturing concerns, business houses and individuals. Coal, food and other supplies must be transported. Physicians' cars and ambulances must be able to promptly reach the sick or injured.
Fire is a constant danger to the community, and streets blocked with snow constitute a tremendous and constant fire peril. Streets must be constantly open for the movement of fire-fighting apparatus.
The whole business life of the city, of the community, of the whole surrounding country is directly dependent upon free and uninterrupted traffic over streets and public highways no matter how severe the snowfall or how bad the weather.
The public has come to realize just what these snow blockades are costing 111 loss of business as well as inconvenience and throughout the Northern States, there 1s a fast increasing demand for proper snow fighting equipment.
Sargent plows solve the question.
Publisher
Bacon Printing Company
Keywords
Sargent snowplows, Union Iron Works, Inc. Bangor Maine
Recommended Citation
Union Iron Works, Inc., "Sargent Snowplows [Manufactured by Union Iron Works, Inc., Bangor, Maine, U.S.A]" (1990). Books and Publications. 288.
https://digicom.bpl.lib.me.us/books_pubs/288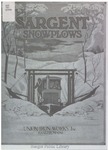 COinS