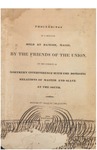 Proceedings of a Meeting Held at Bangor, Maine, by the Friends of the Union, on the Subject of Northern Interference with the Domestic Relations of Master and Slave at the South
This pamphlet presents the sentiments of some Bangor citizens circa 1825, three decades prior to the Civil War, to oppose the efforts to push for the ending of slavery in the Southern states. Primary among the citizens rationale is the notion of States' Rights, though, other reasons are presented, some of which do not look favorable given the light shone on the history of this country.
Description
Opening:
The citizens of Bangor, one and all, who are opposed to the measures of the Northern Abolitionists, and who are desirous publicly, and in the language of Washington "indignantly" to "frown upon the first dawning of any attempt to alienate one portion of our country from the rest; or to enfeeble the sacred ties which now link together the various parts;" who hold to the preservation of our national compact, in its original spirit and purity, as a sacred and inviolable duty, and as the only ark of our political salvation; -- who disclaiming for themselves, protest against the right of other citizens, of any one State, to interfere, directly or indirectly, in the domestic relations of the citizens of any other State; and who feel pledged by every obligation sacred to men of honor and freemen to support, at all hazards, that fundamental article in our sacred Constitution, that "the United States shall guarantee to every State in this Union, a Republican form of government; and shall protect each of them against invasion, and against domestic violence," -- are requested to meet at the City Hall, on Saturday evening, the 29th August, at 7 o'clock, to take into consideration the measures most proper to be adopted, to counteract the attempts now making by these individuals to create civil discord and to convey to our brethren of the South the most solemn assurance of the public reprobation of their proceedings, and the insignificance of their numbers, and their utter inability to produce any public action among the independent and intelligent citizens of Maine, inconsistent with the rights of the Southern States.
This paper has been withdrawn.