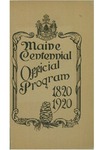 Description
Opening Day
Saturday, June 26, 2 P.M.
Maine Centennial Exposition opens at Exposition Building, Portland
The Maine Centennial Exposition which opens today will continue through July 5th. It is held in the Portland Exposition Building located on Park Avenue and is open daily, except Sundays, from 10.30 a.m. to 10.30 p.m.
The purpose of this Exposition is to show goods made and sold in the State of Maine; to foster unity of purpose among business men; to build up, strengthen and aid the industrial and agricultural interests, as well as develop Maine's wonderful resources.
It is being conducted for the Maine Centennial Committee by the State Chamber of Commerce and Agricultural League.
Publisher
Charles E. Nash & Son
Keywords
Maine Centennial, 1920, Portland, Maine Centennial Committee, Maine Centennial Exposition, June 26th-July 5th, 1920
Recommended Citation
Rogers, William Chapman, "One hundredth anniversary of Maine's entrance into the union: official program of state celebration, Portland, June 26th to July 5th 1920" (1920). Books and Publications. 69.
http://digicom.bpl.lib.me.us/books_pubs/69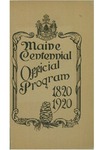 COinS