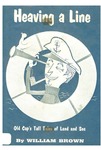 Description
Book Description
Down along the Maine coast, tales are spun of the days when men were sailors and great adventures lay at every port.
Now, sitting by the fire, Old Cap retells some of his mightiest and funniest adventures. Very tall tales they are indeed. We suspect the old sea dog's imagination is bigger than truth can tell.
He takes you into lands and seas where anything can happen at any time -- a real "Alice in Wonderland" for grownups.
The night the howling nor'easter smashed the Lizzie M.; taking to the woods as a lumberjack; catching fish with a pitchfork; Gramp's noisy corpse; the porker in the chimney -- all provide Old Cap with some of his merriest tales.
You'll chuckle at how Old Cap outsmarted a man-eating shark in a swimming race -- and at the rooster applying artificial respiration to his brood of Rhode Island Reds.
You'll meet some real characters who were raised on salted codfish and boiled potatoes. They are Salty, who engineered a tail-pulling contest between a biting mustang and a kicking mule; Hardtack, a ferocious footballer; Gramp, who took his auto-driving test as he would a sloop in a high wind.
All these short short-stories take you right into the wharf-side bunker with its pot-bellied stove. So pull up a rocking chair, light your pipe and come along as Old Cap takes you over land and sea into some of the most nonsensical adventures a man ever dreamed of.
Publisher
Exposition Press
Keywords
Maine Author, Fiction, Coastal Maine
Disciplines
English Language and Literature
Recommended Citation
Brown, William, "Heaving a line: old cap's tall tales of land and sea" (1956). Books and Publications. 51.
http://digicom.bpl.lib.me.us/books_pubs/51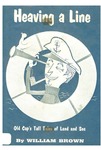 COinS