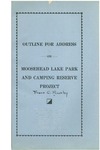 Description
It is proposed to develop for recreational and health about 100,000 acres of forest land extending eastward from the shore of Moosehead Lake to Katahdin Iron Works and Lake Onawa, in the following manner:
1. Purchase of about 70,000 acres of land.
2. A scenic toll road of about 35 miles extending from Moosehead Lake over Lily Bay and Katahdin Iron Works Mountains to Katahdin Iron Works and the public highway in Brownville, supplemented by a branch road of 13 miles from Katahdin Iron Works along the slope of Chairback Mountain Range to the public highway at Lake Onawa and by additional roads or trails to principal lakes of the tract and other points of recreational interest, totalling about 70 miles.
3. A modern recreational hotel on the shore of Moosehead Lake supplemented by a series of camps and camp grounds along the route of the proposed toll road or its branches.
4. The sale of developed and undeveloped land for private camps around hotel or camp centers and elsewhere.
5. A health organization for persons in ill health who are not contagious or hospital cases, based on supervision of a physician, supplemented by a host who shall carry out physicians' prescriptions for exercise as recreational activity.
Frank C. Hinckley / 39 Hammon Street / Bangor, Maine
January 14, 1932 / Amended March 19, 1932 / Amended April 20, 1932
Keywords
Moosehead Lake Park, Maine
Recommended Citation
Hinckley, Frank C., "Outline for Address on Moosehead Lake Park and Camping Reserve Project" (1932). Books and Publications. 46.
http://digicom.bpl.lib.me.us/books_pubs/46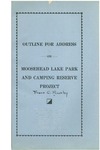 COinS