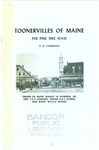 Description
Introduction
Maine is .well known among New England's electric railway enthusiasts for its four major traction systems -- the Atlantic Shore Line Railway, the Portland Railroad, the Lewiston, Augusta and Waterville Street Railway and the Bangor Railway and Electric Company -- and for its famous Portland-Lewiston Interurban as well, but not so well known is the fact that the Pine Tree State had a number of small trolley lines, none over 15 miles in length, which were either contiguous to the larger systems or operated by themselves.
Such roads were the Biddeford and Saco Railroad, the Benton and Fairfield Railway, the Calais Street Railway, the Fairfield and Shawmut Railway, the Norway and Paris Street Railway, the Skowhegan and Norridgewock Railway, the Somerset Traction Company (Skowhegan and Madison), the Waterville, Fairfield and Oakland Railway -- and New England's last horsecar line, the Fryeburg Horse Railroad.
The histories of the Biddeford and Saco Railroad and the Calais Street Railway have already been published and hence are not included in this anthology. All the others have been covered in as complete a fashion as available information permitted. Many of these lines have been gone for 30 years or more -- records no longer exist and the memories of the few remaining former employees are growing dimmer as time passes.
Also included in t his volume is a description of some of the proposed-but-never-built trolley lines of Maine.
Among those who have furnished information for "Toonervilles of the Pine Tree State" are Edward W. Young of East Weymouth, Mass., Ernest Rowe of Westbrook, Me., Gerald C. Marble of Skowhegan, Me., Flora M. Webster of the South Paris, Me. Public Library; N. R. Longfellow of Solon, Me. and Laurence Breed Walker of Salem, Mass. Additional material has been drawn from the annual reports of the Maine Railroad Commissioners and Public Utilities Commission, the Electric Railway Journal and the U. S. Street and Electric Railway census reports of 1902 and 1907.
Sept. 1, 1955
O.R. Cummings / 13 Parsons Street / Newburyport, Mass.
Keywords
Street Railroads, Maine
Recommended Citation
Cummings, Osmond Richard, "Toonervilles of Maine, the Pine Tree State" (1955). Books and Publications. 45.
http://digicom.bpl.lib.me.us/books_pubs/45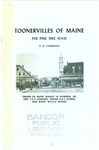 COinS