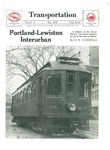 Description
Introduction
This is the story of New England's finest interurban -- the Portland-Lewiston Interurban -- which connected Maine's two largest cities from 1914 to 1933.
A high speed road operating almost entirely over private right-of-way, it provided the best in passenger and freight transportation for nearly 20 years and was abandoned only when steadily increasing highway competition made continued operation financially impossible.
Its 30-mile single track line was of substantial construction -- as well buit as many steam railroads -- and its rolling stock was outshopped by two of the country's leading carbuilders, Laconia and Wason. Modern methods of power distribution were employed and operations were conducted in a careful and efficient manner.
Both limited and local service were offered, with cars leaving each terminus every hour during the day. Speed, comfort and safety was the slogan of the Portland-Lewiston Interurban and it is notable that only one accident of any consequence ever took place on the road.
Although the Portland-Lewiston Interurban has been gone for more than two decades, it is still well and fondly remembered in the area it served.
Publisher
Connecticut Valley Chapter, National Railway Historical Society Inc.
City
Warehouse Point, Connecticut
Keywords
Portland-Lewiston Interurban, Maine
Recommended Citation
Cummings, Osmond Richard, "Portland-Lewiston Interurban: a history of the finest electric interurban railway to run in the State of Maine" (1956). Books and Publications. 44.
http://digicom.bpl.lib.me.us/books_pubs/44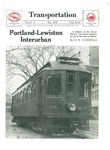 COinS