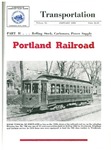 Description
Introduction
Converted horsecars, large, easy-riding suburban types with and without smoking compartments, single and double truck Birney cars, center-entrance trailers with trolley poles and small 4- wheel arch roof semi-convertibles -- all of these were among the wide variety of rolling stock owned by the Portland Railroad, Maine's third largest electric railway.
Altogether, the Portland Railroad owned over 300 cars during its lifetime -- from 1863 to 1941 -- and most of them were products of J.G. Brill or two of its subsidiaries, Wason and Stephenson. There also were a number of Laconia, Jones, American and home-built cars on the roster, but these were in the minority.
Portland Railroad cars were always well maintained and they were being overhauled and painted right up to within a year or two of the end of rail service. It can be said truthfully that the nearly 40- year-old cars being used in the last years of trolley operation were in as good condition as when they were purchased.
Publisher
Connecticut Valley Chapter, National Railway Historical Society Inc.
City
Warehouse Point, Connecticut
Keywords
Street Railroads, Maine
Recommended Citation
Cummings, Osmond Richard, "Portland Railroad: Part II, Rolling stock, carhouses, power supply" (1959). Books and Publications. 42.
http://digicom.bpl.lib.me.us/books_pubs/42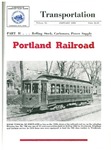 COinS