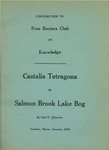 Description
Preface
For the past three or four years, I have had the privilege of accompanying Mr. Nylander on many of his field trips of exploration, and during the past summer I was with him on several trips to the locality known to the natives hereabout, as the Salmon Brook Bog. The purpose of these trips was to determine whether a small unknown pond lily still grew in the marshy inlet of Salmon Brook Lake. This lily, Castalia Tetragona, was discovered there many years ago by Mr. Nylander , who wished to check this previous discovery before printing the following article.
I am neither a botanist nor a geologist, but I have gathered some very definite facts from these trips with Mr. Nylander regarding the natural resources of Maine, and also about the man who really knows the plant life and mineral deposits of this section of the state. The work of publicizing and advertising the vast array of plants, fossils, and minerals collected by Mr. Nylander has begun, and a museum is soon to be built in the town of Caribou to house this collection. When this wealth of material is publicly displayed in proper surroundings, scientific minds will acclaim the discoveries and congratulated the discoverer, and you and i as laymen, will at least realize the industry and knowledge possessed by the man who made the collection.
Aroostook County will be better known and longer remembered because of the life and work of Olof O. Nylander.
A resident of Caribou, Maine, Walter Dale Currier
January 18, 1938
Keywords
Water lilies, Salmon Brook Lake, Caribou, Perham
Recommended Citation
Nylander, Olof O., "Castalia Tetragona in Salmon Brook Lake Bog" (1938). Books and Publications. 38.
http://digicom.bpl.lib.me.us/books_pubs/38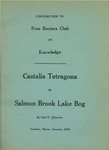 COinS