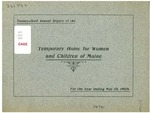 Description
The purpose of our Home, as expressed in an old by-law, is "to provide shelter and employment for t he women and children of the State of Maine who may be found on the streets, in bad houses, in stations or public institutions, or are reduced to dependence upon public charity, and who need to be protected from temptation to vice."
The doors of the Home are never shut to a woman in need. But with the experience of years and with the growth and development of the work have come an enlargement of aim and a deepening of purpose. This Home means not only shelter and protection, but it means for the children plenty of pure food, sunshine and fresh air, proper medical attendance when ill, and always loving, tender, motherly care.
For girls and young women our Home has come to mean the abandonment of rough speech, careless dress, bad temper and idle habits for gentleness, neatness, obedience and industry. It means a respect for labor and its wholesome influences and a quickening of the whole moral nature. The stewardship of the managers and the matrons is not merely planning and directing and superintending, it means sympathy and faith and devotion. It means a personal interest in the daily life of the girls and in their efforts to become good women, sympathy in their failures, and inspiration to new endeavor. It means that the magic wand with the transforming power is the wand of Love in the hand of a friend.
Publisher
Harris & Williams, Printers
Keywords
Temporary Home for Women and Children of Maine, Portland, Maine
Recommended Citation
Temporary Home for Women and Children of Maine, "23rd Annual Report of the Temporary Home for Women and Children of Maine" (1905). Books and Publications. 17.
http://digicom.bpl.lib.me.us/books_pubs/17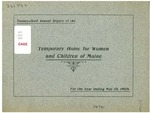 COinS