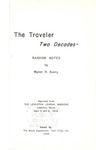 Description
Maine is a vast State, compared to its New England neighbors. And, in comparison with many States of greater territory, it has long stretches of wilderness country.
Those who have been to Katahdin want to go again. Those who haven't been often express a longing to get at least a glimpse of that section. But even most of those who have been near or on Katahdin know no more about the country to its north than they could gain from their summit viewpoint.
An exception is Myron H. Avery, captain, USNR, a Lubee native who is the State's leading authority on Katahdin and its environs and who has been a prolific writer on the subject.
Publisher
Maine Appalachian Trail Club & the Lewiston Journal Magazine
Keywords
Mount Katahdin, Maine Appalachian Trail Club, Lewiston Journal Magazine
Recommended Citation
Avery, Myron Haliburton, "The Traveler: Two Decades: Random Notes" (1949). Books and Publications. 134.
http://digicom.bpl.lib.me.us/books_pubs/134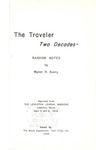 COinS