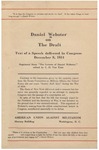 Description
Sample:
[The House had under consideration a bill proposing to draft men for service in the War of 1812]:
In my opinion, Sir, the sentiments of the free population of this country are greatly mistaken here. The nation is not yet in a temper to submit to conscription. The people have too fresh and strong a feeling of the blessings of civil liberty to be willing thus to surrender it. You may talk to them as much as you please of the victory and glory to be obtained in the enemy's provinces, they will hold those objects in light estimation, if the means be a forced military service. You may sing to them the song of Canada conquests in all its variety, but they will not be charmed out of the remembrance of their substantial interests and true happiness. Similar pretenses, they know, are the grave in which the liberties of other nations have been buried and they will take warning.
Laws, Sir, of this nature can create nothing but opposition. If you scatter them abroad like the fabled serpents teeth, they will spring up into armed men.
Publisher
American Union Against Militarism
Keywords
Daniel Webster, military draft, United States military history, conscription
Disciplines
Military History
Recommended Citation
Webster, Daniel, "Daniel Webster on the draft : text of a speech delivered in Congress, December 9, 1814" (1917). Books and Publications. 131.
http://digicom.bpl.lib.me.us/books_pubs/131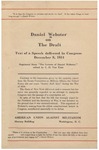 COinS