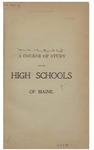 Description
Opening Paragraphs:
Teachers and school officers who use this Course of Study will find many valuable suggestions on the work in English in the papers read before the Cumberland County Teachers' Association at its annual meeting in 1895, several of which papers are reproduced in the succeeding pages of this Course.
Able discussions of this and other subjects taught in high schools will be found in the report of the Committee of Ten of the National Educational Association. The volume for 1895 of the Association of Colleges in the Middle States and Maryland also contains valualile reports in civics, history and English. Every high school teacher should make a thorough study of these documents.
The most of the children in the public schools do not expect to enter college. This large majority should receive the best fitting for life's work that the public schools can give them. They need the training and information that can be gained from history, Ianguage, sciene and mathematics. The English course in our Free High schools should have the ripest scholarship, the ablest teaching talent and the strongest personality in the teaching force of the school. Our institutions are not only based on the principle that majorities shall rule, but that they shall be served. English, rnathematics, history and the sciences must be so broadly and inspiringly taught that the boys and girls studying them in our high schools will be made strong to make the good things in life better.
Keywords
high school, teacher instruction, course offerings, Maine
Recommended Citation
Maine Department of Education, "A Course of Study for the High Schools of Maine" (1895). Books and Publications. 119.
http://digicom.bpl.lib.me.us/books_pubs/119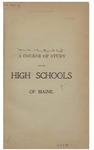 COinS