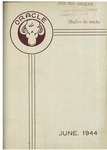 Title
Description
Foreword
In this year of 1943-1944 the Oracle staff has obeyed the command "Carry on!" As the war moves on toward victory existing conditions find the staff preserving the tradition of the past.
The work entailed in publishing the Oracle has been accomplished by a smaller staff than ever, primarily because a greater number of students having both the necessary ability and volition were not to be found. This fact seems illogical in view of the keen interest of the student body as each issue appears. A larger group is desirable. The desire, paraphrased, is, "Oracle board, may its scribes increase!"
Although priorities and restrictions have caused a temporary reduction in the number of issues, the quality and quantity of material have been of the same high standard that students have come to expect in their student publication. The magazine has, however, continued to carry numerous photographs in both regular columns and special features. The day is hoped for when photographic covers may be realized. And, too, the future will see such innovations as consistent column head type, line cuts, etc. We leave the execution of these plans to tomorrow's Oracle staffs.
In spite of diminished school enrollment the subscription campaign conducted in the fall was very successful. This response makes tangible to the staff the character and responsibility of the Oracle.
Publisher
Bangor High School
Keywords
high school yearbook
Recommended Citation
Bangor High School, "The Oracle, 1944" (1944). Bangor High School Yearbooks. 6.
http://digicom.bpl.lib.me.us/bhs_yearbooks/6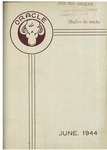 COinS