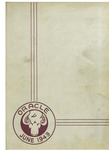 Title
Files
Description
Dedication
The thoughts of youth in 1943 are inevitably thoughts of war. No one can remain untouched by the human tragedy that is war. With awful intonations it announces sorrow, suffering, death to supposedly civilized peoples -- grown selfish in their civilization. Comrades and counselors of youth are caught in the clutches of conflict. No wonder the future twists itself into an overwhelming question mark, and youth is asking, "Why war? What is civilization? Where is God?"
To us at Bangor High School, the induction of friends and teachers, the progress of their training, their promotions, word of honors won and lives lost, bring home the war. Many of us are soon to join their ranks. Our eyes and hopes are fixed upon them whose lot is service to the nation. Some will return; some we shall never see again. But it is to them that we, the youth of 1943, can look for the answer to our questions.
In a spirit not so much of dedication as of prayer, we pay tribute to the men and women, boys and girls, who have gone forth from Bangor High School in the services of their country. We pray that we may find strength to stand firm and true behind them every minute of the way.
Publisher
Bangor High School, Class of 1943
Recommended Citation
Bangor High School, "The Oracle, 1943" (1943). Bangor High School Yearbooks. 5.
http://digicom.bpl.lib.me.us/bhs_yearbooks/5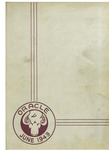 COinS