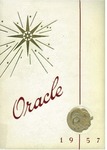 Title
Description
Foreword
Knowledge leadeth light to see truth
Down through the years man's goal has been the attainment of knowledge. Parallel with this aim has been the quest for truth. Only by an unceasing search for knowledge can the feigned be separated from reality.
The aim of true education is enlightenment -- the stepping from the darkness of ignorance into the light of true knowledge. Education is not only book-learning but also the wisdom which is gained from actual experience.
Thus, having completed only part of our education, we, the class of 1957, still have before us, the light of knowledge, gleaming faintly in the distance. To exemplify this light, we selected the sun for the theme of the 1957 Oracle. The Oracle will serve as a reminder of what has passed, but the sun, glowing brightly in the sky, will keep ever present in our hearts the desire to advance into the future.
Publisher
Bangor High School
Keywords
Bangor High School, yearbook
Recommended Citation
Bangor High School, "The Oracle, 1957" (1957). Bangor High School Yearbooks. 18.
http://digicom.bpl.lib.me.us/bhs_yearbooks/18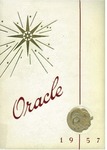 COinS