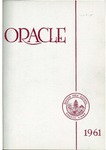 Title
Description
Foreword
"Better to be small and shine / Than large and cast a shadow."
Meet Joe Sharpe, a familiar figure at Bangor High School. He's the kind of person that people call a "good kid" or a "nice guy." Joe turns up at All Bangor Nite, goes to all the games, and gets his homework done most of the time. Once he was a Student Council representative.
Joe's not an athletic hero, class president, nor a top scholar; but he is the manager of the football team. His friends can count on him to help them struggle through Junior Ex, and to lend them a dime when they're down to their last four cents.
Joe "shines" with his own individuality. He and other students like him are the ones who really make up a high school class.
"I'm Joe Sharpe, Bangor High School student. The Oracle Staff has used parts of my scrapbook to introduce various sections of the yearbook. I've spent three years at B.H.S. and it has certainly been busy and interesting ... as well as educational!"
Publisher
Bangor High School
Keywords
Bangor High School, yearbook
Recommended Citation
Bangor High School, "The Oracle, 1961" (1961). Bangor High School Yearbooks. 14.
http://digicom.bpl.lib.me.us/bhs_yearbooks/14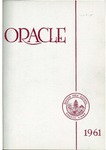 COinS